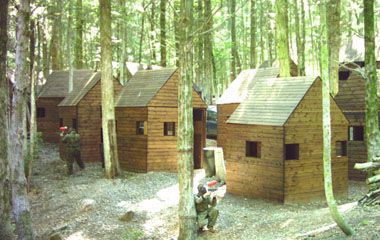 Ground
A very gentle slope running down from south west to north east in a non-deciduous woodland area.
Situation
A general is inspecting our Alpine garrison's defences. His survival is crucial to the war effort. Enemy activity is reported to be high in the area and if realised, the general would make a good target of opportunity to any 'snatch squad'.
Mission
Defend the general's life at all costs. Secure him in one of the 20 or so buildings available, and hold to the last man !
Mission Execution
Sentry's have been doubled for this visit on four hour rotation. But the patrols have been cut down.
Service Support
Any artillery or air support has deemed to be too risky to the generals life.
Command and Signals
There shouldn't be any friendly forces coming in so report any contacts or strange occurrences immediately.
Password is Charlie Alpha Romeo Tango