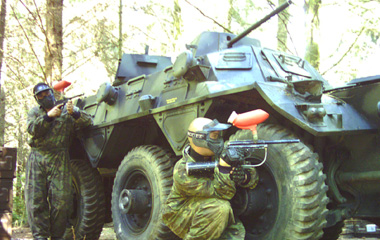 Ground
Mixed woodland, flat ground leading to a small, shallow valley to the north. There are small boggy areas to the north, a track running east to west ending in a clearing to the west.
Situation
An enemy ammunition convoy is reported to have parked up for the night along the track in your area. It is believed that the convoy consists of an armoured vehicle, two supply trucks, a signals vehicle and numerous light utility vehicles.
Mission
Infiltrate the convoy, plant charges on the supply trucks and blow them in place.
Mission Execution
Infiltrate using the dead ground to the north, secure the area before bringing up the charges. Place the charges before falling back to a safe area. Remember there is an armoured vehicle so you need to disable that before going for the objective. Use smoke as cover but not until you have been spotted.
Service Support
Being the haste required for this mission, there is not enough time to arrange any support for you, you are on your own.
Command and Signals
As to not alert the enemy, strict radio silence must be kept throughout.